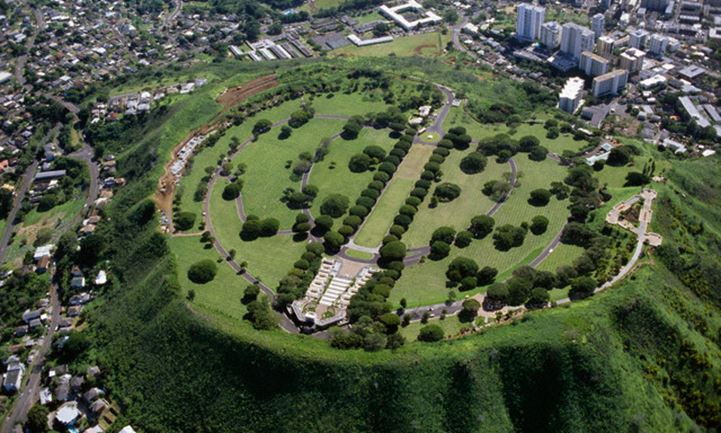 Not really certain why these memories are haunting me today. Perhaps it's being Presidents' Day or because of the emotional
turmoil this latest shooting has created among our
country's citizenry.
It was my first Christmas with my Coast Guard husband after his
transfer to Honolulu before our son was born. We chose that day to visit Punchbowl, the National Military Cemetery of The Pacific. Established in a
crater that was formed some 75,000 to 100,000 years ago,
the
governor of Hawaii
offered the Punchbowl for a national cemetery i
n 1943.
In February 1948, Congress approved funding and construction began. It was officially dedicated on September 2, 1949, the 4th anniversary of V-J Day.
As we stood on the viewing platform, looking down at the rows of crosses, I could hardly believe this sunny day with a warm breeze disturbing my hair was December 25th.
I found the
experience
to be a very moving as I realized how many gave their lives so I could stand in that spot.
An equally moving experience happened twenty-odd years later when my family spent a day at the Normandy coastline at

Omaha Beach American Cemetery & Memorial in Colleville-sur-Mer.

The first American cemetery on European soil,

France granted the United States a special, perpetual

concession

to the land occupied by the cemetery, free of any charge or any tax.

Overlooking

Omaha Beach, the memorial

consists of a semicircular

colonnade

with a

loggia

at each end containing maps and narratives of the military operations.
I cannot describe my
stirred
emotions as I walked the sands that had absorbed the blood of so many of America's finest.
Perhaps I'm just sensing that we, the people, need to look back to see how we've drifted from that era of sacrifice for others and unity of country.